ASHRAE 62.2 publishes a national standard that applies to single-family homes and multi-family dwellings to ensure proper ventilation and acceptable indoor air quality. The standard is referenced in building codes and widely accepted by architects, engineers and mechanical contractors. ASHRAE 62.2 addresses minimum ventilation effectiveness and noise level performance of continuous and intermittent mechanical exhaust systems.
The following table summarizes the ventilation air requirements in CFM for various floor areas: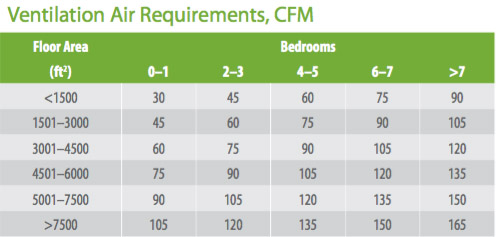 Most Delta Breez fan models are ASHRAE 62.2 compliant for both intermittent and continuous run applications. This means Delta Breez fans are operable according to 62.2 guidelines for airflow and meet the minimum noise level requirements.